Dear jkidphilly families,
Which fruit best describes you?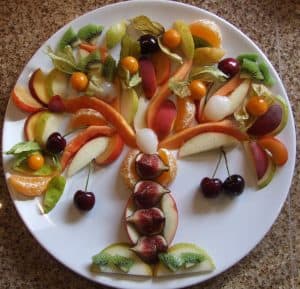 How wonderful that the beginning of Jewish Disability Inclusion and Awareness Month coincides with Tu B'Shevat, the birthday of the trees. Let's celebrate the diversity of the human spirit along with the gift of the Earth's bounty.
In celebration of Tu B'Shevat, many families have a Tu B'Shevat Seder. Similar to a Passover Seder, there is a festive meal and spiritual journey with symbolic foods and four cups of wine or juice. The foods include fruits and nuts with an inaccessible (inedible) exterior, such as oranges and pistachios; fruits with a soft outside and hard pit, such as apricots or dates, and fruits that are wholly edible, such as apples or berries.
How might fruit reflect who you are? Are you a tough nut to crack? Are you mostly open until you hit that wall? Try asking your kids to compare themselves to their favorite fruit.
Need more inspiration? We have fantastic Tu B'Shevat events coming up this week with activities from art to yoga and snacks from apples to yuzu. (Yuzu not guaranteed!)
Happy Tu B'Shevat!
Lisa and the jkidphilly team