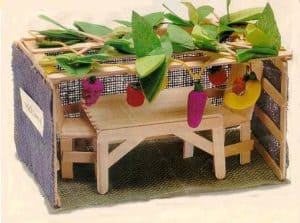 Only five days after the self-reflection and solemnity of Rosh Hashanah and Yom Kippur, we celebrate Sukkot. It is the harvest season, a time of richness and bounty,
Z'man simhatenu, Season of Our Joy. Historically, we link Sukkot with the way in which our ancestors traveled through the wilderness, and later gathered their grain at harvest as they brought their offerings to the Temple.
During Sukkot, we become aware that despite the great courage it took to escape slavery in Egypt, it takes even greater strength to struggle day after day in the wilderness of freedom. During Sukkot we re-enact the experience. We build a temporary outdoor structure, a sukkah, into which we move portions of our daily activities. It is a shaky, unstable booth, with only enough roof to create shade and yet allow us to see the stars. We decorate it with fruits of the harvest and reminders of our ancestors. We gather with our family and friends and celebrate the joy of our bounty, and are grateful for the warmth and security that is our luxury today.
Sukkot reminds us how others struggle for food and shelter, and challenges us to see how much "stuff" we have and can live without. When we experience Sukkot we reveal the ironic truth about the essence of permanence: that despite the instability or transience of our material possessions, it is our connection to each other that remains.
Read all about Sukkot by downloading and printing our Sukkot information sheet!
Learning the Lessons of Sukkot: Activities You Can Do With Your jkids!
Remember those who struggle for food and shelter.
Donate funds to Mazon: A Jewish Response to Hunger.
Donate food regularly to your local food pantry. In the Philadelphia area, The Mitzvah Food Project operate five pantry locations throughout Greater Philadelphia that distribute non-perishable food packages, produce, and supermarket gift cards.
Look in the "corners of your fields" and give away those items in the corners of your house that you no longer use. They may make a difference in someone else's life. Help your children go through their toys and give away items that they have outgrown or no longer use.
Buy extra toiletries or linens when you buy them for yourself, and donate them to a local homeless shelter or emergency center. Connect to each other.
Check out our jkidphilly calendar for a fun Sukkot event near you!
More Sukkot Fun:

Check out our jkidphilly Sukkot playlist!