FOR JEWISH FAMILIES OF COLOR
Vision:
To build a community where Jews of Color and culturally and ethnically diverse Jews experience a sense of belonging, membership, equity, and affirmation.
Mission:
Building on our jkidphilly experience in family engagement, jkid4all strives to bring together families who identify as Jewish Families of Color and culturally and ethnically diverse Jews through social gatherings and Jewish educational programming. These gatherings offer families the opportunity to build relationships with others who similarly identify, enabling people of all ages to see themselves in others while in Jewish spaces.
Program Description:
jkid4all designs and delivers family-oriented, multi-age programming, virtually and in-person, as well as develops and delivers professional development to education directors and teachers to help work toward making all Jewish spaces inclusive and welcoming. jkid4all programs are intended to serve the broadest demographic – any family who self-identifies as a Jewish Family of Color or as a culturally or ethnically diverse Jewish family. Programming is currently focused on bringing families together, in-person and/or via Zoom, for fun and educational Jewish experiences while also being intentional about re-centering Jewish representation away from white Ashkenazi to racially, ethnically, and culturally diverse representation. jkid4all has created a Parent Advisory Committee that is helping to guide the direction of the program.
Future Plans:
As we gain a better understanding of who our stakeholders are, we will be able to design programming specific to the various needs of a truly diverse population. We may choose to create programming that serves specific age groups; racial, ethnic, or cultural groups; or family make-up.
Meet Sarah, Director of jkid4all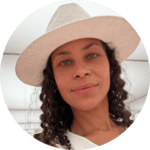 Sarah Kolker, a graduate of Sarah Lawrence College and Moore College of Art and Design, was born and raised in Philadelphia. She has extensive experience providing healthy creative learning environments for youth in Philadelphia, Jamaica, SF Bay Area, and New York City. Her use of art and social justice-centered educational practices have been employed by both private and public institutions. Sarah continues to teach and support community art with Mural Arts in Philadelphia, which is the nation's largest public art program that engages the community to ignite change through mural-making.
Sarah lives in Germantown with her two children. When she is not busy supporting youth and families, she enjoys spending time in her garden or creating nourishing food in the kitchen and artwork in the studio or in the community.