Purim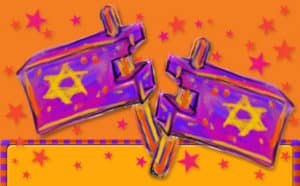 Purim is the most festive holiday of the Jewish calendar. It is an occasion for "serious partying," a day of authorized abandon. Purim marks the celebration of an ancient victory—when Queen Esther, an assimilated Jewish woman, found the courage to risk her life to save the Jewish people from an evil advisor who plotted to destroy the Jews of Shushan. Read The Purim Story.
Get in the mood for Purim by downloading this Spotify Purim music playlist…great to get your jkids ready for the holiday!
If your child benefits from visual supports, check out these Purim social stories and other great resources from Gateways in Boston.
You can download our new Purim Lotto game to play as a family, this Purim information sheet, and our new jkidphilly@home Purim page. 
Celebrating Purim
Purim is undoubtedly the most high-spirited of Jewish holidays and probably the easiest to celebrate. Four mitzvot (plural of mitzvah) have become the essence of Purim. A mitzvah is a Jewish obligation to do something good because it is the right thing to do. There are many opportunities for you and your family to participate in these mitzvot. They include:
1. The Reading of the Megillah (Mikra Megillah)
On Purim it is a mitzvah to hear the Megillah, the Book of Esther, read aloud. Purim's festivities center around this reading. The community gathers in costume, with graggers/ra'ashanim (Purim noisemakers) in hand, prepared to hear the story. Carnivals, plays,special dinners and parties all follow from this moment. The Megillah reading of Purim can be a wonderful opportunity to introduce children to a synagogue. Even without understanding the context, children can learn to associate Judaism with joy and celebration. They feel bonded to a people and community who know how to laugh and love their tradition enough to play with it and enjoy it. The actual story of the Megillah is one of straightforward idealism. Its message for us and our children is that every Jew can be a hero and that individuals can make a difference. Attending a Megillah reading and discussing the story of Esther with your children can help to foster a sense of self-worth and provide a role model for every would-be hero. Click on our jkidphilly calendar to find a Megillah reading near you! Download and print these Purim puppets to help tell the story of Queen Esther at home. Here are some videos to help your jkids learn about the Purim story:
2. Giving Gifts of Food (Mishloach Manot)
Giving Mishloach Manot reminds us that being a Jew means being part of the community and sharing celebrations with friends. Giving Mishloach Manot is a simple mitzvah. It is just a matter of giving a gift of two or more kinds of food to the small circle of people important in your family's life. Mishloach Manot may typically include hamantashen (three-cornered cookies named after Haman: recipe), fruit, and candy on a decorated paper plate. Click here for a really fun, child-friendly hamantashen recipe. We also have cards to color and use with Mishloach Manot packages.
3. Giving Gifts to the Poor (Matanot La-Evyonim)
In the Jewish tradition, every act of celebration, every moment of significance, and every formal gathering includes an opportunity for giving tzedakah. Tzedakah, coming from a Hebrew word meaning justice, is the obligation to help those who are in need by sharing part of the wealth we have been fortunate enough to accumulate. Contact the jkidphilly team for ideas about child-friendly Tzedakah ideas. We are here to help!
4. The Festive Purim Meal (Seudat Purim)
Purim is a time to celebrate and be happy. It's a mitzvah to eat a festive meal with family and friends. Share food, conversation, and blessings with those closest to you. Check out our Purim pinterest board for costume and decor ideas…we even created a hamantashen board for all of you foodies who might like to try something on the savory/gourmet side. Red Velvet hamantashen, anyone? More Purim info here for you to download. Happy Purim!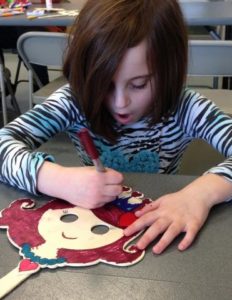 Check out our Purim playlist on Spotify!