Let's Get Together!
Get Together Grants are back!!!
---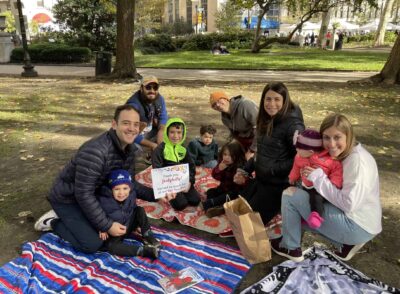 jkidphilly wants to help your family stay connected with friends! Because of our jkidphilly get together grants, over 150 people have gotten together in small Get Togethers across the Greater Philadelphia area in the fall! It was so popular that we are making it available again this spring.
Apply today for our Let's Get Together Grant. You plan the get together, invite 1-3 Jewish families with PJ Library and/or PJOW age children (newborn-12 and siblings), and create a Jewish experience. The best part is that thanks to a grant from the Harold Grinspoon Foundation, jkidphilly will pay for it up to $100! (And you can even host more than one get together!) You choose whom to invite, when and where to host, and design this Jewish get together to best suit you and the families that you're inviting.
You can invite families you already know, families you would like to get to know better, or we can introduce you to families whom you can invite! jkidphilly can guide you through the planning process and help make sure each get together is a success. We will create materials to help all families have the tools that they need to host comfortable family-friendly Jewish gatherings. Get Togethers should follow the latest Covid-19 guidelines. jkidphilly encourages outdoor events and recommends indoor events in compliance with CDC safety protocols.
Hosts will choose a theme of a Jewish holiday or value when creating the experiences. Some examples of get together ideas may include:
Shabbat picnic; Shabbat dinner; Havdalah
Jewish Food Experience
Mitzvah club (e.g. make sandwiches to donate, pick up trash at a local park, deliver boxes of food together and then enjoy lunch, etc.)
Hamantaschen baking
Passover playdate
Lag B'omer picnic
Go to a dairy farm and get ice cream for Shavuot
Choose your own Jewish experience!
Please note: Get Togethers may be held from the date your application is approved through June 7. After your program, jkidphilly will request that you submit a picture of your get together, your receipts for reimbursement, and fill out a short survey. See frequently asked questions (FAQs) for more information.
Applications are being accepted on a rolling basis until the funds are used. Apply today so that you can be part of this great program!
Best,
Bari Jacobson
jkidphilly, Parent Ambassador in the Lower Bucks County Area
Coordinator, jkidphilly Get Together Grants
bjacobson@jewishlearningventure.org
---
Let's Get Together Grant FAQs
Getting Started
What is the timeframe for the Get Together?
How do I apply to host a Get Together?
What type of Get Together am I able to host?
How many families do I have to host?
May I invite my extended family to my Get Together?
Does a Get Together include celebrating personal milestone events, Jewish organizational outings/events, events open to the community or combining multiple reimbursements for the same Get Together?
Will I be notified if I am approved?
Do I have to wait for my approval to host my Get Together?
May I apply for more than one Get Together Grant?
I live in NJ; am I eligible for the Get Together Grant?
After the Event
Where do I go to fill out the exit survey?
What do I need to include in the exit survey?
How will I be reimbursed?
How long will it take to be reimbursed?