FOR JEWISH LGBTQ+ FAMILIES
Vision:
To build a community where families that include LGBTQ+ Jews experience a sense of belonging, membership, equity, and affirmation.
Mission:
jkidPRIDE both creates community for Jewish LGBTQ+ parents as well as Jewish LGBTQ+ kids and tweens. Through informal gatherings, educational programming, and holiday celebrations, jkidPRIDE seeks to offer the opportunity for LGBTQ+ Jews to build relationships with others who similarly identify.
Program Description:
jkidPRIDE, in its pilot year, is currently designing and delivering family-oriented, multi-age programming, virtually and in-person. Since jkidPRIDE is an emerging initiative, the programs are intended to serve the broadest demographic – any family who self-identifies as a Jewish LGBTQ+ family, whether it is the parents and/or children who identify. Programming is currently focused on bringing families together, in-person and/or via Zoom, for fun and educational Jewish experiences while also being intentional about re-centering Jewish representation away from heteronormative cisgendered representation.
2022-2023
Sunday, September 18, 2022 at 3:00pm
New Year – New Ideas: Family Craft in the Park – REGISTER
Sunday, October 23, 2022 at 2:00pm
LGBTQ+ Jewish History: Learning & Teaching – REGISTER
Sunday, November 20, 2022 at 2:00pm
Acts of Kindness: Notes and Drawings for LGBTQ+ People Experiencing Homelessness (registration link coming soon)
Meet Robin, jkidPRIDE Director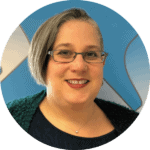 After spending over 20 years as a teacher of young kids and as an English Professor, Robin joined Jewish Learning Venture so that she could contribute to enriching the lives of families in the Philadelphia Jewish community. Originally from Boston and having earned a B.A. from Boston University's Wheelock College of Education and an M.F.A. from Emerson College, Robin is a former jkidphilly parent who also teaches the K-1 Bonim class at Temple Sholom in Broomall. She lives in Media with her wife and their teenage son.