FOR FAMILIES RAISING CHILDREN WITH DISABILITIES
Through jkidACCESS, Jewish Learning Venture helps to ensure that families raising children with disabilities find the support and accommodations needed for full inclusion in Jewish life. We are here to be a resource for YOU.
Here are some of our favorite Jewish resources to support your family:
Meet Gabby, WCI Director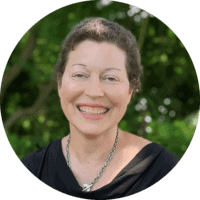 Whole Community Inclusion Director Gabrielle Kaplan-Mayer is available by phone or email to talk about finding Jewish educational, camp and synagogue programs for your child and family. Click here to read her bio.
Gabby is an experienced Jewish educator—and a mom of a child with multiple disabilities and welcomes the opportunity to connect with other parents raising Jewish kids with disabilities.
We look forward to connecting with you soon!