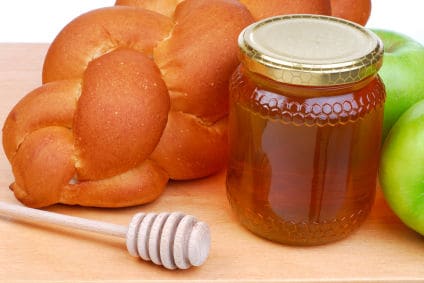 This year, Rosh Hashanah will begin in the evening of Friday, September 18 and ends in the evening of Sunday, September 20.
Rosh Hashanah is commonly known as the Jewish New Year. In Hebrew, Rosh Hashanah literally means "head of the year" or "first of the year," and it occurs on the first and second days of the Jewish month of Tishrei. 
Rosh Hashanah is also called the birthday of the world. Jewish sages tell us this corresponds to the 6th day of Creation when God created humankind.
Rosh Hashanah is a joyous holiday, but it has a serious side, too. Rosh Hashanah is the beginning of the "Ten Days of Awe," a time of introspection to reflect on the previous year and think about ways to improve ourselves in the year to come. 
As with most Jewish holidays, there are symbolic ritual items and foods to help people experience the holiday with all of the senses.
The shofar, or ram's horn, is sounded on the holiday (unless it is Shabbat) and the entire month leading up to Rosh Hashanah. The shofar blasts act as a wake-up call and call to action.
We have some fun recources to help you and your jkids celebrate the Jewish New Year, including:
BimBam teaches us the blessings over the apples:
Learn the Blessings Over Apples for Rosh Hashanah with Shaboom!
Check out our Rosh Hashanah playlist!