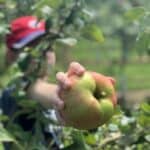 Whether you are looking for videos, crafts, explanations, or more, jkidphilly is your one-stop-shop for all things Rosh Hashanah.
Come for the apples and honey;
stay for the opportunity to have a sweet and happy new year!

Everything you wanted to know about Rosh Hashanah — and more!

Crafts and games for a joyous Rosh Hashanah

Apples and honey and more!

Videos for all ages

Start the new year off right with this playlist

There's nothing like a PJ Library book!