Dear jkidphilly families,
How will you make a  difference?
Presidents' Day started in 1880 in recognition of George Washington and the birth of our democracy. Over time it became a celebration of all presidents and their contributions to our country.
This is a great time to introduce children to the idea of building community through community service. Research shows that when children of any age take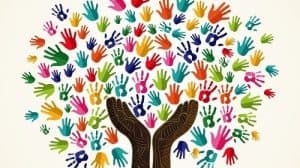 part in a community, they learn cooperation, compromise, self-regulation, and caring for others.
How wonderful that Presidents' Day takes place during JDAIM – Jewish Disabilities and Inclusion Awareness Month. A community is richer and stronger when we appreciate the beautiful diversity of its people.
In a famous teaching, the renowned sage Hillel asks, "…if I am only for myself, what am I?" (Pirkei Avot 1:14), highlighting the necessity of thinking beyond oneself, standing up for what's right, and taking initiative. Are you ready to take action? We have great volunteer opportunities this coming weekend as well as more Tu B'Shevat fun. Find events near you on our jkidphilly calendar.
Register for something today, because, as Hillel says, "If not now, when?"
Shabbat Shalom from Lisa and the jkidphilly team