Hanukkah
At jkidphilly, we are excited for all of the fun ways that you and and your family can enjoy Hanukkah! Below are some of our favorite resources to help you celebrate the festival of lights. Click here to download our Hanukkah guide, featuring the story, dreidel instructions and candle blessings on one easy sheet!
Enjoy Hanukkah Music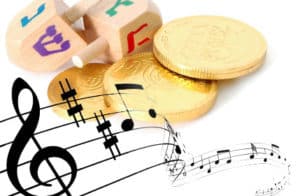 Listen to our Hanukkah playlist, curated just for you and your family!
More Ideas for Hanukkah in the Home:
Lighting The Hanukkiah (The Hanukkah Menorah)
Lighting the candles (or the wicked olive oil) on a Hanukkiah is a central ritual of Hanukkah. Each night as we kindle the flames we remember the miracle of the olive oil that burned for eight days and nights in the Holy Temple in Jerusalem when it was believed that there was only enough oil to keep the Temple's menorah lit for one day.  By placing the Hanukkiah by a window in our home, we announce the greatness of the Hanukkah miracle to passers by.
Traditional Hanukkah Food?  We've Got That!
Traditional Hanukkah foods are foods that are fried in oil. The most common foods are latkes, fried potato pancakes and sufganiot, doughnuts.
What about presents?
While gift-giving has become part of the Hanukkah celebration, no one knows exactly when and where the tradition originated. Jewish tradition does associate gift-giving with other holidays: Pesach (Passover), Rosh Hashanah (New Year) and Purim.


How to Play the Dreidel Game 
A dreidel is a top with one Hebrew letter on each side. Together they form the initials for "Nes Gadol Haya Sham…A Great Miracle Happened There."
The Rules:
Each player starts with the same number of m&m's, pennies, chocolate coins etc.
Each player antes up one piece of candy or coin into the kitty
The first player spins the dreidel.
When the dreidel stops, do what the letter tells you:
(Nun) the spinner gets nothing.
(Gimel) the spinner gets the whole pot.
(Hey) the spinner gets half of the pot.
(Shin) the spinner adds one to the pot.
Go back to #1 and the second player plays, and so on!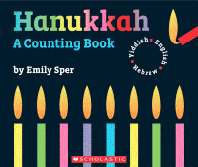 Books
Recommendations from PJ Library
Give the gift of Jewish literacy to a jkid in our community. Make a donation to PJ Library.
Do you know a Jewish child (aged 6 months to 8) in Greater Philadelphia who is not receiving PJ Library books?  Sign him/her up!
More Fun Videos: