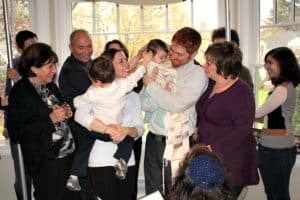 In Jewish tradition, we have special ceremonies to welcome babies into our families and communities. For boys, the ceremony is called brit milah (covenantal circiumcision—often referred to as "bris") and for a girl, the ceremony is called baby naming or may be brit bat (covenant for a daughter) or simchat bat (rejoicing in a daughter).
Brit Milah takes place on the eighth day after a baby boy is born and can be done in the home or in a synagogue. A specially trained professional called a mohel performs a circumcision on the infant and the baby's name is announced at the Brit Milah. Many families are adding other meaningful rituals to the brit milah ceremony.
In years gone by, baby girls did not have as significant a ceremony. Instead, the father would usually go to synagogue the Shabbat after his daughter was born and would receive a special aliyah (going up) to the Torah where he would receive a blessing and the baby's name would be announced. But over the last thirty or so years, many Jewish families have created beautiful welcoming ceremonies for baby girls where friends and family are invited, the baby's name is shared and the family may choose to do a special welcoming ritual.
PJ Books related to Bris/Baby Naming:
Want To Learn More?
Our Jewish Birth Rituals Pinterest Board