Ha'achalat Re'evim/Feeding the Hungry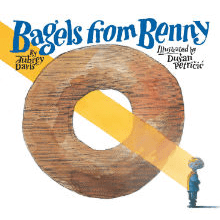 It may be hard for children to imagine that there are some people in the world who don't have enough food. It can be even harder to imagine that their are people in our country, city and neighborhood that are struggling with food insecurity.
It is a Jewish mitzvah to feed those who are hungry. We can introduce this idea to our children by:
Reading them PJ Library books like Bagels For Benny or Bone Button Borsht:
Take your family to volunteer at the Jewish Relief Agency (JRA)–Children are welcome!
Attend a jkidphilly Blessing Bag event — check the calendar for upcoming events.
Here are more helpful resources from Mazon, a Jewish organization dedicated to hunger relief.