by Eileen Kupersmith
I love seeing toys that my child played with as a baby in the hands of his child. It fills my heart to see the yellow sweater that my grandmother knitted for her grandchild, being worn by my grandchild. My own children think it is strange (and often roll their eyes) when I pull out an item that I have saved for almost 40 years, but I get great pleasure in watching these tangible items passed on.
Parents and grandparents are in a natural teaching role. By word and action.
It is gratifying when our children embrace the values or beliefs that we hold most dear: caring for the environment, feeding the hungry, helping people less fortunate than we are, honoring the elderly, being kind to animals, welcoming guests . . .
We pass on pride in our heritage when we reveal that these behaviors are basic to Judaism – giving tzedakah, doing mitzvot, being a mensch.
There is an added benefit when my grandchildren want to pass on what they are learning in preschool and religious school. They seem pleasantly surprised when they spot the mezuzah in our home, or when they realize I know the words to a song they just learned in school. It's even better when they know something I don't!
As a grandparent I feel the desire to connect the past, through the present, to the future. It pleases me to watch my children and grandchildren using the tangible things and practicing the intangible things. My heart is filled with joy to see my grandchild wearing a special outfit that I saved for over 30 years. My heart is filled with hope when I see them living the traditions and values that our people saved for thousands of years – L'dor vador.
I am grateful to jkidphilly and PJ Library for offering multiple ways to deepen my understanding and providing more hands-on ways to pass on rituals, traditions and values. We are creating new family heirlooms.
Train a child up in the way that he should go, and even when he is old he will not depart from it. Proverbs 22:6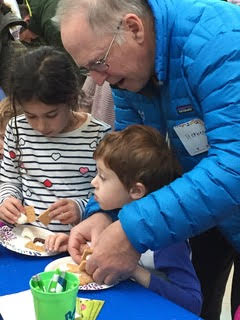 Eileen and her husband enjoying jkidphilly's Chanukah at the Mall with their grandkids.
Eileen Kupersmith is Thea, Miles and Micah's Mom Mom. We are honored to have her as a member of our Grandparents' Celebration Committee…and hope you will join Eileen and her family for our 5th Annual Grandparents' Celebration on 9/16.