It's almost time for Rosh HaShanah, the New Year. What makes the holiday special for you and your family? We asked local rabbis who are also parents about what makes Rosh HaShanah a meaningful time for their families.
"We love to take to heart the tradition of making foods that have a pun on our wishes for the holidays. Some Jewish communities around the world prepare foods whose names sound like a wish for good fortune. Rubia, black-eyed peas, is reminiscent of the word yirbu, "to increase." Gezer, the Hebrew word for carrot, sounds very much like g'zar, the Hebrew word for decree. We hope God will cancel any negative decrees against us in the new year. We like to make up our own, like the one my friend invented: raisin and celery salad (for a "raise in salary")."
Rabbi Shoshanah Tornberg, Old York Road Temple-Beth Am
"We have a number of different customs, including having a range of ceremonial foods drawing on the traditional list. We like having lots of different kinds of honey out (usually trying to include fresh honeycomb). Some years we'll do a Seder-like thing where we'll dip four different kinds of apples in four different types of honey for extra sweetness in the year ahead."
Rabbi Josh Waxman, Or Hadash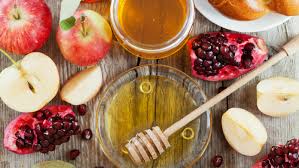 "For the Frisch family, the last few years have been challenging, as both my husband Seth and I have been congregational rabbis and needed to be at our synagogues to lead High Holy Day services. My daughter has attended a Reform synagogue with her friend's family and my middle son has attended a Conservative synagogue with his friend's family. Meanwhile, my oldest son has attended Orthodox services at his Yeshiva. So we've been at five different – and very diverse – synagogues for prayer. This makes our family meal time together extra special. A favorite tradition of mine leading up to the holidays is making round challot for the holidays with my daughter. When my kids were younger we used to go apple picking together before Rosh HaShanah, which was always a lot of fun."
Rabbi Robyn Frisch, InterfaithFamily Philadelphia
For resources, recipes, music and videos for Rosh HaShanah, check out jkidphilly's resources. Shana Tovah~wishing you a happy new year!