by Robyn Cohen
Years ago when my two eldest older children were ages two and 6 months, my husband and I took them out to dinner. As I was trying to comfort the baby, and my husband was trying to help my toddler eat without leaving the table, an older couple at the table next to us surveyed the situation, took in our kids and saw that neither of us were eating. She met my eye, smiled in a kind way and gently said, "is it really worth it?" It probably wasn't that night. It was kind of exhausting.
Sometimes when we make decisions to take our young children out to activities, we ask ourselves, "is it really worth it?" I just met a fabulous group of parents who could answer "yes, it is." Why? Not because they had children who sat still while eating, and let them finish their conversations uninterrupted with other parents, but it was worth it because without being aware, they were co-parenting. I couldn't tell whose children belonged to which mom because every mom was helping out. I always thought that mothers should grow another arm for each child that they had, but it turns out that mothers who grow friendships do get more arms, hands, and hearts. They also enrich their child's lives because more adults are looking out for them.
For me, as for many women, friendships with other women are the equivalent of oxygen, sustaining us through good times and bad. These friendships evolve for different reasons over a lifetime. Co-parenting helps in our day-to-day lives, whether it is holding a friend's baby or carpooling older kids. And beyond providing an extra pair of hands, our fellow co-parenting moms lend company, understanding, help, and humor and provide more love for our kids. It gives us community.
My two year old is now a teenager (and we enjoy many restaurants together) and now my co-parenting mom friends and I all attend each others bar and bat mitzvahs. We are nostalgic and filled with love for each other. We circle together hand in hand during the hora (dance). And, when it is our friend's turn to be lifted onto the chair in the middle of her community of family and friends, it is our women friends who are holding her high.
Robyn says, "Here are moms co-parenting getting 13 kids on and off the metro several times while we visited Washington, D.C. together. We had a ball!"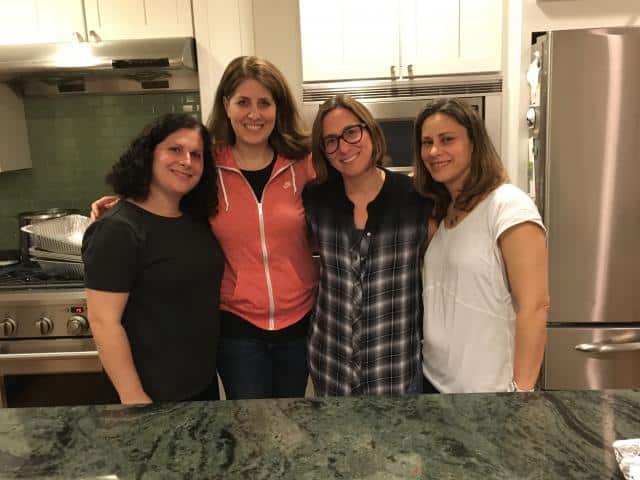 Robyn and some of her Mom friends!