Dear jkidphilly families,
I remember my grandmother making her special batch of lemony prune and walnut hamantaschen. The house smelled so good! There were also poppy and cherry, and today you might find chocolate chip or even savory pizza hamantaschen.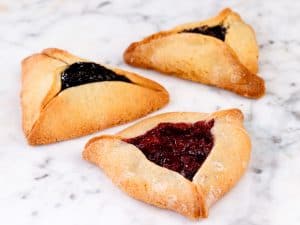 But why do we make these tasty treats? Why do we hide the flavor inside?
The Purim story is one of intrigue, love, deception, courage, and glory. Yet unlike most Jewish holiday stories, there is no mention of divine intervention. This is one reason we wear masks on Purim, to force us to look for what's hidden and to seek out the everyday miracles of life.
Try making or eating a variety of foods with surprises inside, such as perogies, knishes, or turnovers – and then take some time to look around at the beauty of our miraculous world. And of course, come to one of our many hamantaschen baking opportunities!
B'tayavon (with hearty appetite),
Lisa and the jkidphilly team