Dear jkidphilly families,
Happy 2020! Whether your family is back to your regular school/work routine or you're getting ready to head back on Monday, I hope this email finds you well and rested.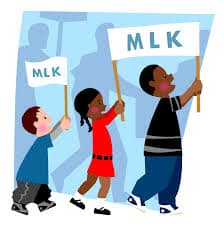 With January here, I'm thinking about MLK Day coming up in just a few weeks and what a wonderful opportunity it is for us to honor Dr. King's legacy by engaging in acts of tikkun olam (repairing the world).
Help your kids get ready for MLK Day by reading these wonderful PJ Library books and check out our jkidphilly calendar to find an MLK program near you. 
We're excited that next week we'll be welcoming our new jkidphilly Director, Lisa Litman. Lisa will have a message for you next Friday and looks forward to meeting your family soon!
Shabbat shalom from Gabby and the jkidphilly team!