By Glenn, a jkidphilly Dad
Lisa & I began volunteering with the Jewish Relief Agency (JRA) in 2010, packing and delivering food. JRA was started here by the Lubavitch Center 16 years ago, and now delivers over 3,200 boxes monthly of food in Philadelphia and New Jersey. It also now operates in 5 other metropolitan areas. They deliver 4,300 boxes per month throughout the USA to both Jewish and non-Jewish families.
Our son's first exposure to JRA was at 2 months old. While I carried boxes down the distribution line, Lisa put food in boxes with Benjamin at her side.
The staff welcomed him with open arms. As we left to make deliveries, he drank his milk and took his nap. Before long, Benjamin was helping pack boxes. While wearing his Volunteer in Training t-shirt, he dropped flyers into boxes at 14 months.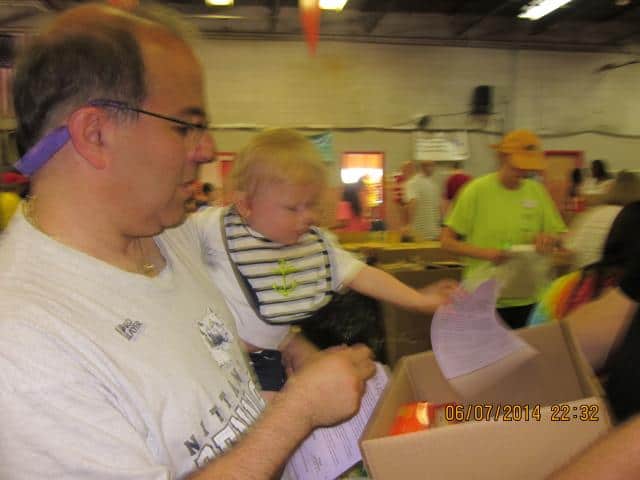 Another volunteer commented, "He's not in training any more." It's always fun to see how other children react to watching him and interact with him.
This year, he wanted to do more than just pack. Some distribution days, he'll pack for half an hour and then grab a cart with 2 boxes and push it down the line. A few volunteers even handed him food to put into the box. He had so much energy, he did both jobs. When those boxes are packed, he turns around and hurries to grab more to pack. He'll keep going for 2 hours. Then we load up the car and we're off to make deliveries. More often than not, that has served as nap time.
Benjamin really looks forward to helping JRA. One Saturday, we told him we'd be packing boxes the next day. He screamed "yea, feed boxes, feed the boxes" and jumped up and down. He also knows and understands that we're doing a mitzvah, especially after reading PJ Library's It's a Mitzvah and I Can Help.
Many volunteers have become familiar with us at the warehouse. One family always tells us how Benjamin inspires them. Yet, their wheelchair bound daughter is an inspiration, packing each month.
Besides synagogues, Jewish organizations support JRA, encouraging volunteers to help. Jewish Learning Venture promotes 1-2 distributions a year as an event for kids. We've participated in those as well. JRA's staff always makes it fun. There's always music playing and often there are fun-themed days, like a beach party or the Olympics. Sometimes they even have contests for the kids, with small prizes.
It often takes longer to pack during the summer months because many volunteers are vacationing or down the shore. But hunger doesn't take a vacation. We ended this past summer with Benjamin going on his first delivery in Federation apartments. He knocked on doors and said, "JRA, we have your food." As we were leaving he was the topic of conversation with residents in the lobby and brought smiles to their faces. One woman picked him up and then revealed that she was 96 years old.
At the end of the summer, JRA started a Tiny Tots program. Between 8:30am and 9:30 am, parent s can bring their children, ages 6 and under, to pack boxes. We've been told it was inspired by Benjamin. He's only 3 ½ and has already inspired a new program, participated in 24 distributions, and brought smiles to countless faces!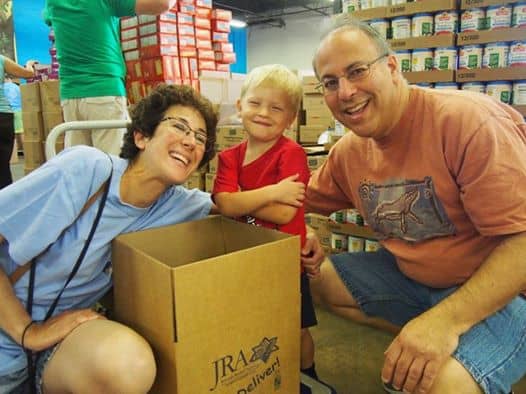 One more thing about JRA. There's an expression Mitzvah goreres mitzvah, one mitzvah leads to another. That is exactly what happened in JRA. The story goes that, when making a food delivery, a volunteer was asked if they had a minute to change a light bulb. Another volunteer was asked if they could hang a picture. And that's how JRAid was born. You can log on and offer to help with small things in your area, even donating toiletries or paper goods for people. There are ways children can also help.
JRA is a fun way to teach children the mitzvah and value of helping others.
For more information email jra@jewishrelief.org, info@jraid.org or check them out online at www.jewishrelief.org and www.jraid.org.