by Shelley Maidman Menkowitz
Storytelling, reading books together, and singing songs form the basis of any warm relationship between an adult and a child. But today we have so many other options. Have you ever read a book to a far-away grandchild using Skype or FaceTime? Even a telephone can work: My friend gets two copies of a book and the child on the other end of the phone looks at the pictures and turns the pages with Grandmom. If you can't carry a tune, recorded music can be played at any time of day in many different places and in a variety of formats.
The technological skills of current-day grandparents vary greatly. And early childhood experts warn that parents should limit the amount of screen time allowed to young children. But I am going to suggest that exploring the Internet with your grandchild can provide a unique opportunity for both adult and child.
Years ago I surfed the web to find an answer to a crossword puzzle clue. One site led me to another and I realized that this was a way that older people, new to computer use, could be introduced to cyberspace. That was the day I discovered something called YouTube!
Babysitting for my grandson, Ben, early one morning, I decided to look for the words to "Modeh Ani" – the morning prayer of thanks that Jews have recited for generations upon awakening. I did not need a website address. I could simply Google the words "MODEH ANI" or "Hebrew morning prayer." Like many Jewish prayers, the traditional words remain constant while new melodies reflect the changes in our time. The options were many. I chose an adorable puppet version called "Modeh Ani, Texas Style" with a cowboy and two cows singing the prayer to a catchy new tune. And my grandson and I started a new tradition. (An added bonus came as I recognized the name of the singer, Harold Messinger, my son's old camp friend who was now a cantor and had moved from Texas to a congregation in the Philadelphia area.)
Recently while Ben tested some new crayons, markers and colored pencils by drawing several versions of a rainbow, I Googled "RAINBOW" and it started us on a long adventure, discussing ROY G BIV, the colors of the rainbow and looking at a variety of designs using those colors. Of course that led to Noah and the Ark; Ben already knew that story.
Rocking Ben's little brother Will to sleep one night, I found myself groping for words to the Yiddish lullabies I heard as a child. After I finished singing him the Sh'ma and V'Ahavta, and patting his back while he fell right to sleep, I invited Ben to cuddle with me in bed while I looked up the lullaby lyrics I had forgotten–or perhaps never really learned. Again, Google to the rescue with "Jewish Lullabies" – offering not only words and melodies, but also translations and additional verses I had never heard. We then veered off to find relatives who had recorded music and I had a chance to tell Ben about his extended family.
It's usually a good idea to preview these searches ahead of time if possible. It avoids the pitfalls of choosing inappropriate tunes or visuals. But there is also something to be learned and taught by just wandering through various sites together. It's OK to make a mistake and find a better way of doing anything.
Whether cuddling together on a couch or in bed with an iPad, sitting in front of a desktop or laptop computer with a child in your lap, or using a smart phone to look up something, the adult is in charge–guiding the search, leading the child into conversation and both are learning together.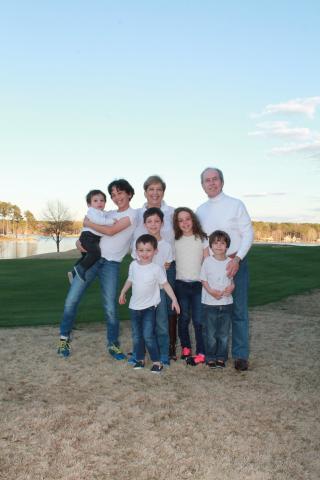 Shelley shares this photo of she and her husband with all of their beautiful grandchildren! Shelley is co-chair of jkidphilly's 4th annual Grandparents' Celebration on September 10th and invites you and your family to join us! Click here for details.