Tal and Eden Van Naarden, 4, checking out a PJ Library book.
We spoke to Dara and Josh Van Naarden about their favorite Jewish activities, their connection to Jewish community, and the ways jkidphilly has impacted their family.
What do you enjoy about jkidphilly?
We enjoy the variety of programs offered, whether it's hearing a mini-concert for kids, meeting at a bounce facility, or doing a craft activity at the library. As parents trying to ensure that our kids' day is filled with worthwhile activities, we especially appreciate those events that fall on days when there is no school. Our jkidphilly Parent Ambassador Cindy Saltzman does a great job of organizing fun gatherings that are enjoyable for kids as well as their parents
What kind of Jewish activities do you enjoy at home?
We light candles for Shabbos, we collect tzedakah, and we love to cook/bake vegan versions of latkes, hamantaschen, sufganiyot, etc.
What are your favorite PJ Library books?
"How to Heal a Broken Wing" was a favorite when it arrived about 2 years ago. "Hanna's Sabbath Dress" was a big hit last year.
And, per her request, I brought "The Little, Little House" to read to the preschool class when Tal was Shabbat queen.
Are you part of any other organized Jewish communities?
We are members of Adath Israel synagogue, where we try to participate in the various family-friendly events and we take our kids to mini-minyan. Our kids also attend the excellent Early Child Learning Center at Adath Israel. During the summer, they attend camp at JCC Kaiserman.
What do you think other parents should know about jkidphilly?
jkidphilly creates connections among families in the community. Its activities allow for our kids to meet other children their age who attend different schools and camps. And scattered among the fun-filled events are opportunities to learn about Jewish culture and tradition.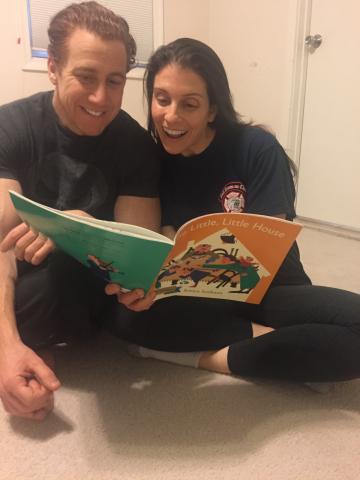 Dara and Josh checking out a PJ Library book.