by Robyn Cohen
It's the season of Thanksgiving…with Chanukah coming soon. I'm excited to share these practices from my family and my personal experience…I'd love to hear about the ways that you and your family express gratitude together.
1. One year, our family did a fun Thanksgiving activity by passing around colorful note cards to everyone at the table. At the top of each card we wrote someone's name and passed it around the table. Everyone wrote something that we were thankful for about that person and kept passing the cards around until each person at the table received a card full of reasons why we were thankful for them! It was a great way to start the holiday.
2. Being appreciative of what doesn't hurt. For example, noticing that you don't have a toothache (toothaches hurt!) and being thankful for that!
3. In our busy lives in which we more often text or send a message, take the time to call someone you have been meaning to get in touch with just to say hello and tell them that you have been thinking of them.
4. Here's an easy but powerful weekly ritual: Before we start Shabbat dinner in our home, we ask everyone to share something from the past week (and we all cheer!).
5. Write a thank you note to a teacher, bus driver, friend, family member or community helper…and/or write a thank you note to your child.
6. Take time out of your day to stop and smell the roses, savor a snack or appreciate anything that you might perhaps take for granted. Invite your child to slow down and notice this thing with you!
7. Read and be inspired by these amazing jkidphilly blogs about gratitude.
8. Read the PJ Library books The Little, Little House or It Could Always Be Worse (all about a family who complained about what they didn't have only to discover everything that they were thankful for).
9. Mark the special moments in life with the Shehecheyanu prayer and turn something new into a "Shehecheyanu moment."
10. It's YOUR turn…What inspires you? How can you and your family express gratitude this season and make it a part of your family's life?
I would love to hear your responses! Email me at rcohen@jewishlearningventure.org to continue this important conversation.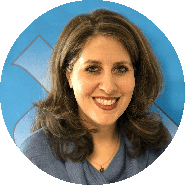 Robyn Cohen, Ph.D. is Director, PJ Library in Philadelphia. In addition, Robyn supervises our jkidphilly Parent Ambassador program, and also runs jkidphilly programs on a monthly basis. She has experience working in the Jewish community with families of young children, teens, and college students. Robyn is a psychologist and her dissertation focused on children's bedtime habits and routines. She and her husband are the proud parents of four wonderful jkids. Robyn has a B.S. in Psychology from Binghamton University, a M.A. in School Psychology, and a Ph.D. in School and Counseling Psychology from Northeastern University.