Sooner or later, it all comes back to food! Do you have a favorite family recipe that's been passed down through generations, a certain dish that you make every Jewish holiday or one that you've updated in a healthier version?
Please send a recipe and photo (if available) of the finished dish or you and your jkids making it to Gabby Kaplan-Mayer,
gkaplan-mayer@jewishlearningventure.org. Look for a new recipe each week!
On the Jewish holiday of Lag B'Omer, it's traditional to make bonfires so we're bringing you a collection of fun s'mores recipes to make with your jkids!
Basic S'mores:
Marshmallows
Milk chocolate bars
Graham Crackers
Roast marshmallows on a stick/skewer over a bonfire until soft. Place a square of chocolate on a marshmallow. Carefully help children take marshmallow off stick and place on top of chocolate. Put a graham cracker on top—eat and enjoy!
VARIATIONS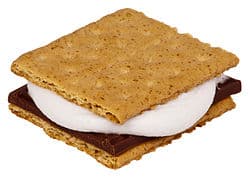 The Elvis S'more
Instead of chocolate bar, use a peanut butter cup and add a slice or two of banana.
Ginger-Caramel S'more
Instead of plain chocolate, a caramel-filled chocolate bar and use ginger snaps instead of graham crackers.
Hawaiian S'more
Add sliced pineapple rings and Mounds coconut bars instead of plain chocolate.
No-toast S'mores
Melt chocolate in a microwave; put marshmallow on skewer and dip in the chocolate. Crush graham crackers to make crumbs, roll marshmallow into crumbs.
For gluten-free graham crackers, click here.
For vegan marshmallows, click here.
Previous Recipe Submissions
Sacher Ladies' Parve Noodle Pudding Recipe (Kugel)
Submitted by jkidphilly Mom, Amy Cuker. This kugel is a huge hit at her son's elementary school International Night!
Ingredients:
1 lb fine egg noodles
½ box raisins
1-½ cup sugar
3 eggs
1 stick melted margarine
1 can sliced peaches (in raspberry juice if available.  If not, ok to use another kind of juice.  I actually made it on Monday with peaches in pear juice and also papaya in white grape juice)
cinnamon to sprinkle
Directions:
Boil noodles according to directions on package
Add beaten eggs, raisins, sugar, melted margarine (what's left after greasing the pan).  Sprinkle in some cinnamon and peaches in whatever sauce they came in.  Mix.
Pour into coated dish.
Sprinkle cinnamon and a few remaining peaches on top.
Bake at 375 for 1 hour.
If making ahead, cook but not all the way (leave a little juicy) so it doesn't get too dry when reheating.
Matzah Toffee Crunch
Submitted by Jodie Levinson, Administrator, jkidphilly
Ingredients:
5 boards matzoh
1 cup (2 sticks) margarine
1 cup packed brown sugar
1.5 cups semisweet chocolate chips
1/2 cup chopped, toasted almonds (optional)
Directions
Cover a baking sheet with aluminum foil, and spray the foil with nonstick cooking spray.
Preheat your oven to 350 degrees.
Cover the baking sheet with a layer of matzoh crackers, breaking them up to fill in gaps if necessary.
Combine the margarine and brown sugar in a small saucepan over medium heat. Stir constantly until the sugar dissolves. Allow the mixture to come to a boil. Once it boils, keep it boiling for 3 more minutes.
Remove the mixture from the heat, and pour carefully over the matzoh. Use an offset spatula or a knife to smooth the top and ensure the matzoh is covered evenly.
Bake for 10-12 minutes, checking consistently to make sure the mixture does not brown too quickly.
Once out of the oven, sprinkle the chocolate chips over the top of the toffee layer and let it stand for several minutes, until the chocolate chips start melting. Use a spatula to spread the chocolate evenly over the surface.
If desired, sprinkle the nuts over the top and press gently to adhere while the chocolate is still wet.
Place in the refrigerator to cool. Break into pieces by hand once set.
Gluten-free Hamantaschen
jkidphilly team member Gabby Kaplan-Mayer has been cooking gluten-free for her son for seven years and share their favorite GF hamantashen recipes. Gabby blogs about food and families at www.kitchenclassroom4kids.com. 
Ingredients:
8 T butter (or vegan butter substitute), softened
1 c. honey
3 eggs
1/2 c. orange juice
1 t. vanilla extract
4 c. GF flour
1 t. xanthan gum
1 t. baking powder
1 t. salt
Fillings:
Applesauce, jam/jelly, nutella or whatever you prefer!
Directions:
Mix butter, honey, eggs, juice & vanilla in a large bowl until well-blended.
Mix dry ingredients in another large bowl.
Slowly pour the dry ingredients into the wet bowl; stir until well blended.
Put in the fridge for 2-3 hours (overnight is okay).
Preheat oven to 350 degrees F.
Roll small balls of dough and place on graeased cookie sheet. Flatten them with the palm of your hands and then form into triangles.
Place a small dab of filling in the middle.
Bake for 20 minutes.
Remove from cookie sheet…eat & enjoy!
Grandma Elaine's and Grammy Yola's Hamantaschen Recipe
Submitted by Amy Schwartz, PJ Library Director
For Dough:
1 c sugar
½ c shortening
3 eggs
3 c flour
2 t baking powder
¼ t salt
juice and rind of one orange
Combine all ingredients.
For Filling:
Solo brand poppy-seed filling or Solo brand prune filling mixed with equal parts apricot preserves and chopped walnuts. Set aside.
Directions:
Roll out dough into ¼ inch thickness on a well floured surface. Flour the rolling pin as well.
Use a 3-3 1/2 inch diameter circle cookie cutter to cut dough into circles — the rim of a water glass works well.
Place a dollop (about ½ t) of filling in the center of each circle and pinch circles to create three corners. You may leave the center of the cookie slightly open or pinch it closed completely. Our tradition is to pinch them completely closed.
To differentiate prune hamantaschen from the poppy-seed hamantaschen, use a light egg wash on the tops of the poppy-seed cookies and sprinkle with poppy seeds before baking.
Bake on a greased cookie sheet at 350 degrees for 15 minutes or until dough is light golden in color.