V'ahavta L'rey'akha Kamokha/ Love Your Neighbor As Yourself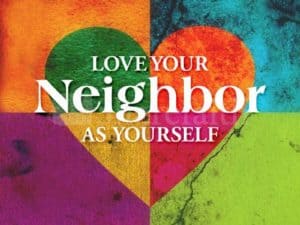 The Jewish value of V'ahavta L'rey'akha Kamokha comes to us from the Book of Leviticus in the Torah in which it says "You shall love your neighbor as yourself (Leviticus 19:18)." These important words teach us to honor the Divine spark in every human being–not only family and friends, but that we should honor and respect all of the people in our communities.
Here are some great resources to help us as parents understand how to live this important Jewish value:
Love Your Neighbor As Yourself
Jewish Learning Matters–Love Your Neighbor As Yourself
To honor this value during the month of November, we'll hold jkidphilly events in which parents and kids can make a "Blessing Bag." We know that many people in our community don't have access to basic necessities.  Each bag will include a variety of items that will help those in need. Families will be able to make one or two bags to:
Keep on hand in your car, so that if you are in a situation where you find someone in need, you can help in that moment.
Donate to a homeless shelter or other organizations that work with the homeless.
Give to a jkidphilly staff member and we will deliver it to the Mitzvah Circle Foundation for distribution.
jkidphilly will provide soap, washcloths and granola bars. jkidphilly families are invited to bring one of the following items to donate for our Blessing Bags:
Hand-warmers (40 packs can be found at warehouse stores) Toothbrushes
Socks
Toothpaste
Chapstick
Lotion
Mints/Gum
Each family should bring at least 5 of an item. Be an upstander, not a bystander. Make a difference with your jkids!
You can also download and print your own Blessing Bag cards if you'd like to make bags at home with your jkids!