Cooking holiday favorites with your kids can nurture a feeling of "investment" in the holiday and help make holiday memories. A win win if you ask us! Click here for some of our favorite recipes, and scroll down for some additional ideas.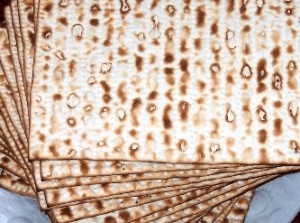 Matzah
Baking matzah is very easy  In order to prevent the matzah from rising, the process should be completed in under 18 minutes.  Kids have a blast playing "beat the clock" and learning how to make this Passover staple.   Recipe
Haroset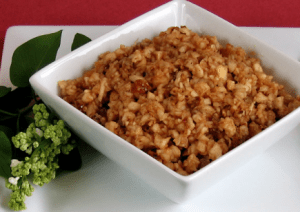 From the Hebrew word "heres" meaning clay, haroset is a food eaten on Passover to remind us of the mortar that the Hebrew slaves used in their building in Egypt.
Today, there are many variations of this holiday staple and you can find recipes all over the internet.  Here's a "classic" recipe.  Feel free to embellish or substitute in some new flavors (see "Substitutions and Additions" below) and create your own family recipe.
"Classic" Haroset:
Approximately 5 apples (any variety), peeled and cored
Approximately 9 oz. of walnuts
cinnamon to taste
sweet red wine or grape juice to taste
Chop nuts coarsely and place in a large bowl. Cut up the apples into small, bite-size pieces (a great job for small hands–with plastic knives). Combine the apples with the chopped nuts. Add cinnamon and wine to taste. Refrigerate.
Check out Gloria Becker's recipes here, and watch her #myseder haroset video!
Substitutions and Additions
Need it nut free? Try dried raisins or cranberries
Need it nuttier? Try pecans, almonds, pine nuts, cashews or even macadamia
Want to spice it up? Try cardamom, ginger, cayenne pepper, nutmeg or cloves
Need it fruitier? apricots, bananas, cherries, currants, dates, figs, pears, prunes, pomegranate, coconut
Need it sweeter? sugar (white or brown), honey, agave, maple syrup