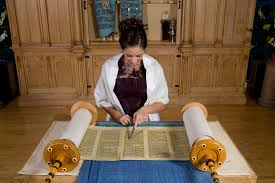 Bar/Bat Mitzvah is the name for a ceremony that takes place at age 13 for a boy and 12 (or 13) for a girl. Bar is Hebrew for boy or son and Bat for daughter or girl and so a Bar/Bat mitzvah means son or daughter of the mitzvot (commandments). A ceremony marking the first performance of a mitzvah such as being called up to the Torah to say the blessings dates back to the Middle Ages. By the 17th century, a Bar Mitzvah involved the 13-year-old boy going up for an aliyah and reading from the Torah (Five Books of Moses) and Haftorah (Book of Prophets). Over time, the service also came to include the Bar Mitzvah boy sharing a D'var Torah (talk on the Torah portion) and also leading some—or even all—of the prayers in the service.
In 1922, Rabbi Mordechai Kaplan celebrated his daughter Judith's Bat Mitzvah by inviting her to read her Torah portion in synagogue. Over the last eighty or so years, the Bat Mitzvah has evolved to look exactly like a Bar Mitzvah (except in Orthodox communities where what a girl is able to do at her Bat Mitzvah may vary).
If you are taking a your child to a Bar/Bat Mitzvah service for the first time, you may want to ask about the service length and if there are certain times when the Bar/Bat Mitzvah boy/girl will be front and center. Some synagogues offer childcare so that parents can attend and focus on the whole service. Letting your child know what to expect ahead of time–about what he/she will see and hear in the synagogue–can be very helpful in preparing your child.