When:
December 7, 2018 @ 5:45 pm – 6:45 pm
2018-12-07T17:45:00+00:00
2018-12-07T18:45:00+00:00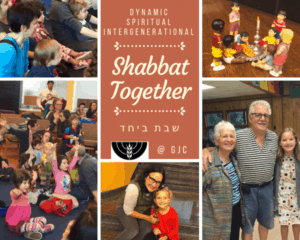 Description: Shabbat Together | 5:45 – snack and schmooze / 6:00pm – service
Calling all families, children, and adults: You are invited to join us to slow down and enter the space of Shabbat together in a relaxed atmosphere. This 30-minute service in the Temin Canteen Room combines singing, story-telling, activities, and prayer to create a meaningful and playful engagement with Shabbat for all ages, led by Director of Lifelong Learning Rabbi Alanna Sklover. All are welcome; come as you are!
Location: Germantown Jewish Center -Temin Canteen Room (playground entrance) / 400 W Ellet St. /Philadelphia, PA 19119
Dates and Times:
Friday, December 7, 2018 from 5:45pm – 6:45pm
Friday, January 4, 2019 from 5:45pm – 6:45pm
Friday, February 8, 2019 from 5:45pm – 6:45pm
Friday, March 8, 2019 from 5:45pm – 6:45pm
Friday, May 17, 2019 from 5:45pm – 6:45pm
Cost: Free
For more information: Email or call Teena Robinson at office@germantownjewishcentre.org or 215-844-1507 x10