Special Mitzvah Guide For "Lyle, Lyle Crocodile"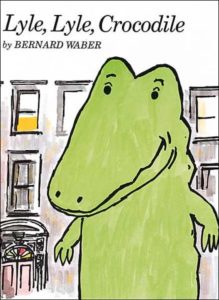 STORY SUMMARY:
Lyle the crocodile lives in a house in New York City. He likes it there, and his hosts, the Primms, like having him around–he helps young Joshua with his homework, jumps-rope with the neighborhood kids, and browses through antique shops with Mrs. Primm. Much to the affable reptile's dismay, however, he makes his neighbor's cat Loretta crazy, which in turn makes Mr. Grumps, Loretta's owner, even crazier. One day, Mrs. Primm and Lyle are shopping, when Lyle–through no fault of his own–ends up infuriating department-store bigwig, Mr. Grumps. Poor Lyle gets sent to the Central Park Zoo where he misses living with the Primms. In an elaborate sequence of events, Lyle finds himself back home, a neighborhood hero, and, startlingly, even a friend to Mr. Grumps and his cat.
JEWISH VALUES IN THE STORY:
Gemilut Chasadim: Acts of Loving Kindness
In the book, Lyle does many acts of gemilut chasadim: helping Joshua do his schoolwork, sharing food with the birds, and helping Mrs. Primm in the kitchen.
What are some acts of kindness that you have done at home, school or in your community?
Ometz Lev: Courage
Lyle becomes a neighborhood hero when he runs into a burning building to save Mr. Grumps and his cat. In doing so, Lyle thinks of them before himself–and does an act of courage.
Can you think of a time when your fear didn't stop you from trying a new thing that may have felt scary at first–such as going down a big slide, putting your head under water in a swimming pool or starting a new school? What helped you to be brave? How do you think Lyle feels when he rescues Mr. Grumps and his cat?
 Be Like Lyle
Make a birdfeeder to feed the birds like Lyle does: Cover a mini-bagel in nut (or soy/sunflower) butter and dip in bird seed. Put a long piece of yarn through the hole in the bagel and hang on a tree.
Keep track of all the ways that you help at home like Lyle does! Click to print our "Helping at home" chart.
Lyle is always making new friends! Make a friendship bracelet for one of your friends. String beads on a pipe cleaner or piece of yarn and tie at the end. Tell your friend how much you like being friends!