When:
June 8, 2019 @ 9:15 am – 10:15 am
2019-06-08T09:15:00+00:00
2019-06-08T10:15:00+00:00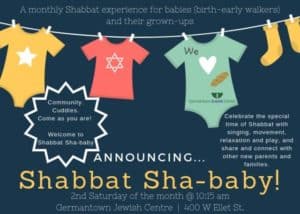 Description: Welcome to Shabbat Sha'baby! This monthly Shabbat experience, for babies from birth to early walkers and their grown-ups, invites you to celebrate the special time of Shabbat with singing, movement, relaxation and play, and share and connect with other new parents and families. Come as you are for cuddles and community!
Location: Germantown Jewish Center -Room 207 / 400 W Ellet St. /Philadelphia, PA 19119
Dates and Times:
Saturday, December 8, 2018 from 10:15am – 11:15am
Saturday, January 12, 2019 from 10:15am – 11:15am
Saturday, February 9, 2019 from 10:15am – 11:15am
Saturday, March 9, 2019 from 10:15am – 11:15am
Saturday, May 4, 2019 from 10:15am – 11:15am
Saturday, June 8, 2019 from 10:15am – 11:15am
Cost: Free
For more information: Email or call Teena Robinson at office@germantownjewishcentre.org or 215-844-1507 x10