When:
November 10, 2019 @ 10:30 am – 11:30 am
2019-11-10T10:30:00-05:00
2019-11-10T11:30:00-05:00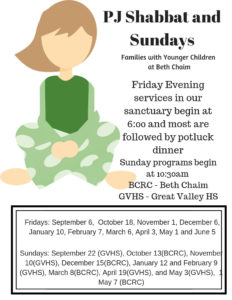 Description: Our PJ Sunday program combines a PJ Library book with activities, art and music. The program, which is designed for families with young children (up to 6 years old) meets once per month. Stories focus on either a Jewish holiday or a Mitzvah. It is open to all in our community.
Dates, Times, and Locations:
Sunday, September 22, 2019 from 10:30am-11:30am/Great Valley High School, 225 North Phoenixville Pike, Malvern, PA
Sunday, October 13, 2019 from 10:30am-11:30am/Beth Chaim Reform Temple, 389 Conestoga Road, Malvern, PA
Sunday, November 10, 2019 from 10:30am-11:30am/Great Valley High School, 225 North Phoenixville Pike, Malvern, PA
Sunday, December 15, 2019 from 10:30am-11:30am/Beth Chaim Reform Temple, 389 Conestoga Road, Malvern, PA
Sunday, January 12, 2020 from 10:30am-11:30am/Great Valley High School, 225 North Phoenixville Pike, Malvern, PA
Sunday, February 9, 2020 from 10:30am-11:30am/Great Valley High School, 225 North Phoenixville Pike, Malvern, PA
Sunday, March 8, 2020 from 10:30am-11:30am/Beth Chaim Reform Temple, 389 Conestoga Road, Malvern, PA
Sunday, April 19, 2020 from 10:30am-11:30am/Great Valley High School, 225 North Phoenixville Pike, Malvern, PA
Sunday, May 3, 2020 from 10:30am-11:30am/Great Valley High School, 225 North Phoenixville Pike, Malvern, PA
Recommended Ages: 3-6
Cost: Free
Click here for more information or to register